Nicol Williamson (1936 Hamilton, Scotland – 2011, Amsterdam, Netherlands) was a Scottish actor, well known for his stage performances in plays by John Osborne and William Shakespeare. He made his stage debut in the late 50's and quickly established himself as one of the leading actors of his generation.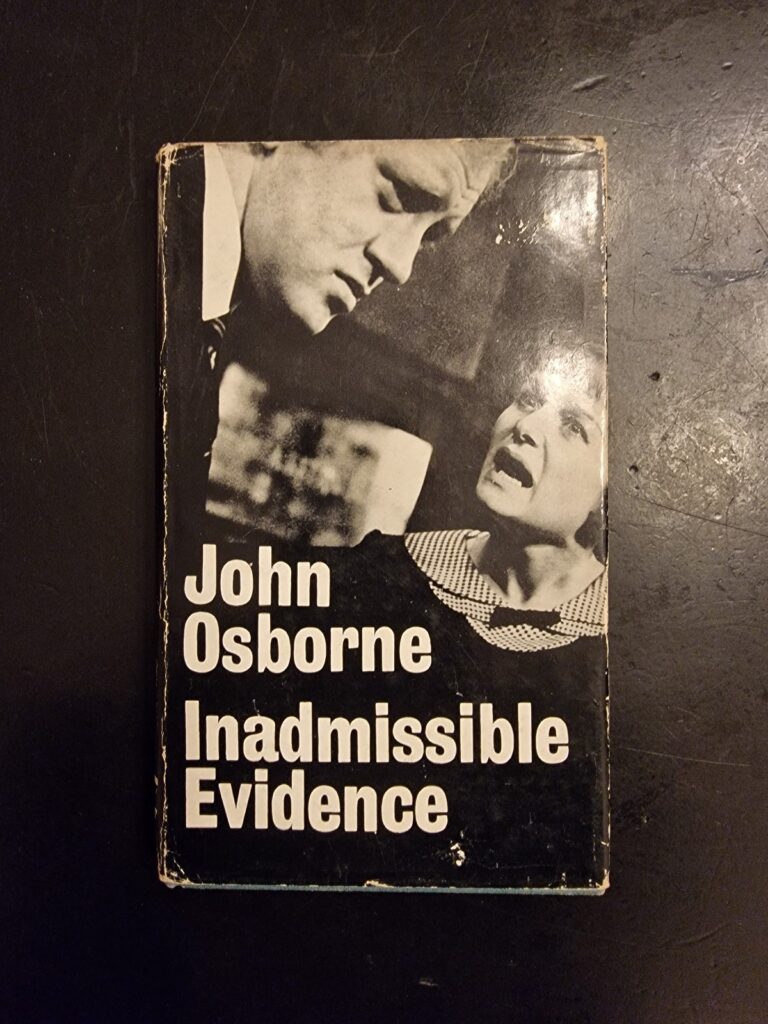 One of Williamson's most acclaimed performances was in the original stage production of John Osborne's Inadmissible Evidence in 1964. He played the lead role of Bill Maitland, a successful lawyer going through a mid-life crisis, and received rave reviews for his portrayal of the character.
Inadmissible Evidence explores themes of infidelity, betrayal, and the breakdown of a man's personal and professional life. The play premiered in 1964 and is considered a significant work of contemporary theater. It features intense and powerful performances from the cast and is known for its raw, unapologetic depiction of human relationships.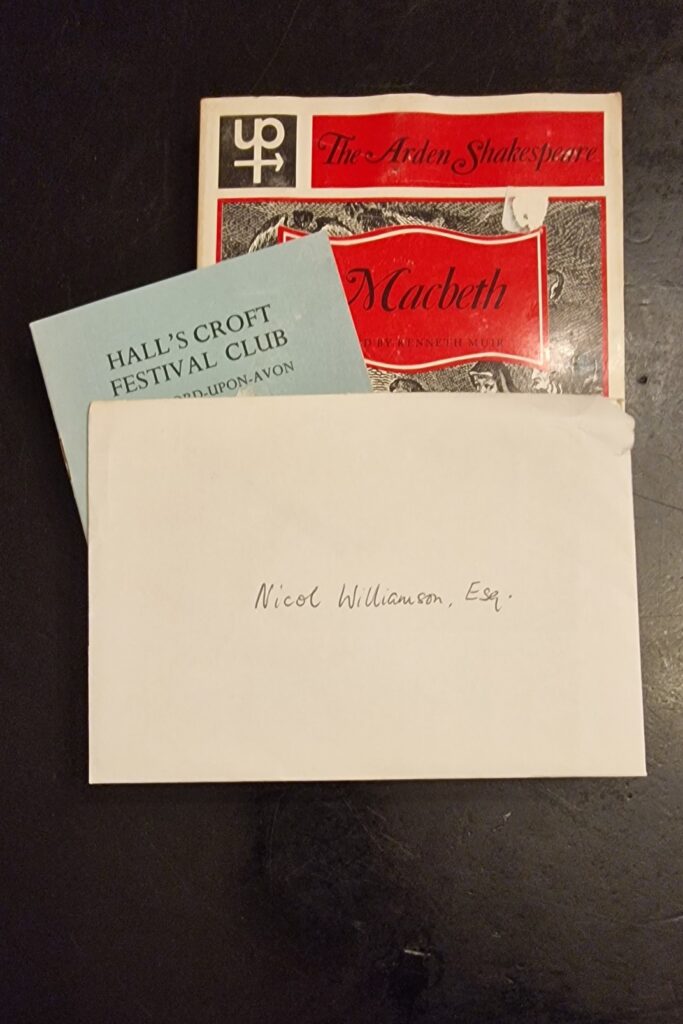 Williamson also had a successful career as a Shakespearean actor. He performed in numerous productions of Shakespeare's plays, including Macbeth, Coriolanus, and King Lear. He was particularly praised for his portrayal of the title role in Macbeth, which he performed on stage and in a film adaptation directed by Roman Polanski.
In 2022 I ran into a small box of books in a thrift store that had belonged to Nicol Willamson (he died in Amsterdam, 2012). Many of them were signed with a dedication, or had notes made by Williamson in them.
This is the list of his books for sale: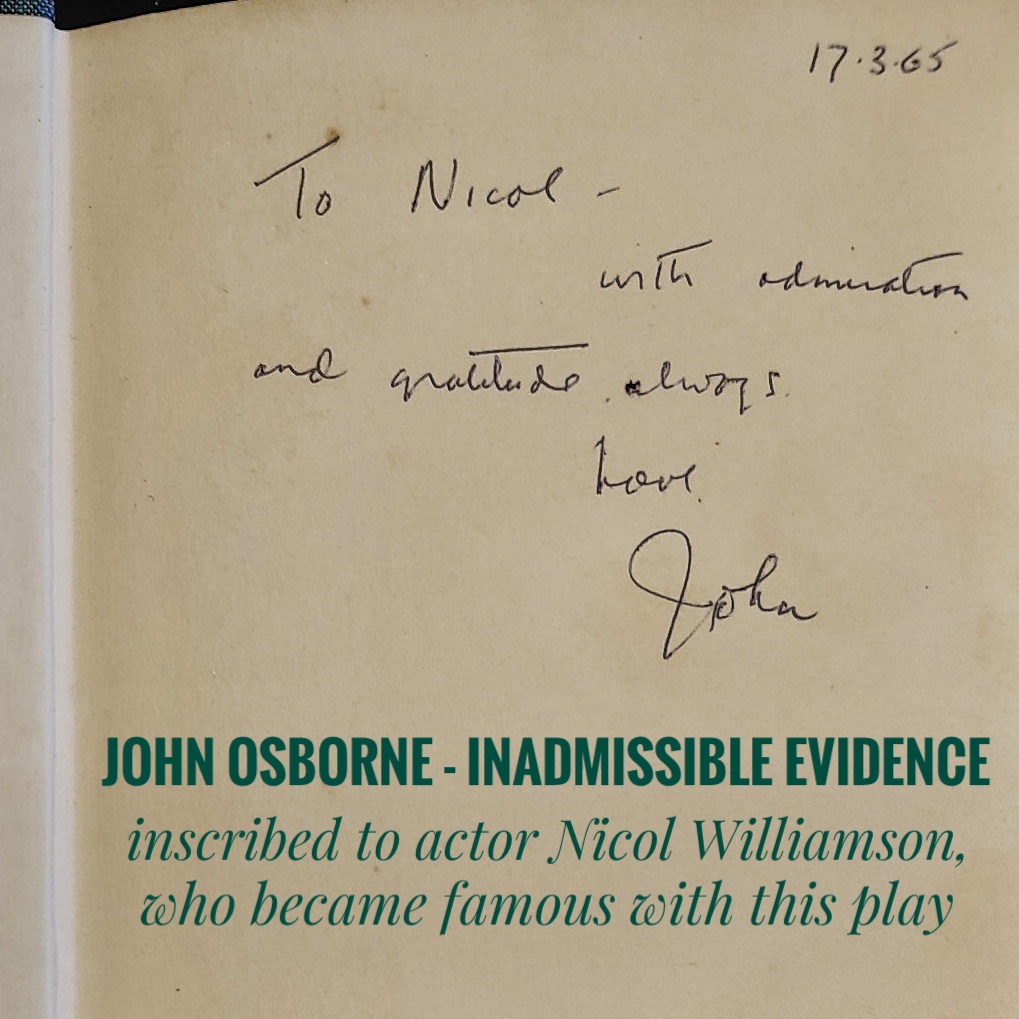 John Osborne: Inadmisseble Evidence (first edition) signed with a dedication to Nicol Williamson.
One of a life time offer. The play that made the actor famous, signed by its creator: "To Nicol – with admiration and gratitude always, love John 17-3-65"
John Osborne – Inadmisible Evidence (Faber and Faber, 1965), signed with a personal dedication from John Osborn to Nicol Williamson. €500
Henry Livings – Kelly's Eye and other plays (Methuen & Co LTD, 1964), signed with a personal message from Henry to Nicol. €150
These were the plays with which he broke through as an actor.
Other books that belonged to Nicol Williamson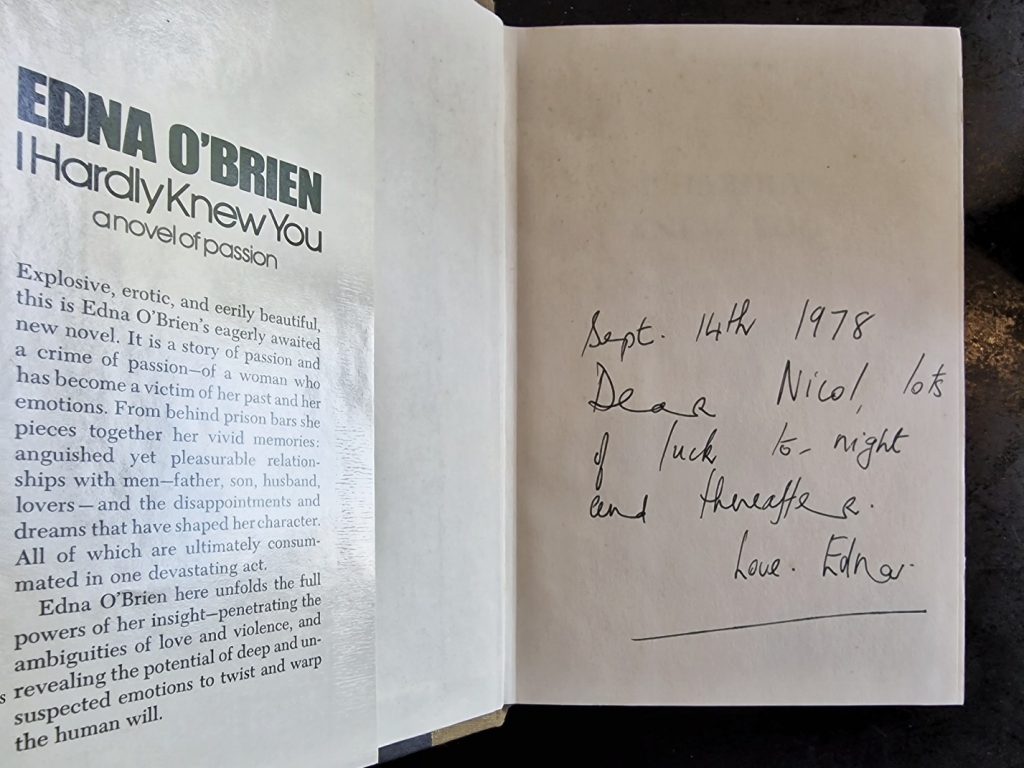 Edna O'Brien – I hardly knew you, dedicated to Nicol Williamson.
Edna O'Brien is an Irish novelist, playwright, and short story writer. She is known for her frank and honest portrayal of women's experiences, particularly in rural Ireland. O'Brien's work often deals with themes of sexuality, societal oppression, and the search for personal freedom. She has been honored with numerous awards throughout her career, including the Gold Medal for Fiction from the Royal Society of Literature
Edna o'Brien – I hardly knew you (Doubleday & Company, 1978), signed with a personal message from Edna to Nicol. €250
Horace Rissen – Odd-it-is (Herbert Fitch LTD, 1972), signed with a personal message from Horrace Rissen to Nicol Williamson, and with a hand written letter to Nicol Williamson too. €150
Jack Crystal – The world my love (London Literary Editions LTD, 1973), with a note of the publisher (how Jack Crystal wanted Williamson to have a copy). €50
Books with writing and notes by Nicol Williamson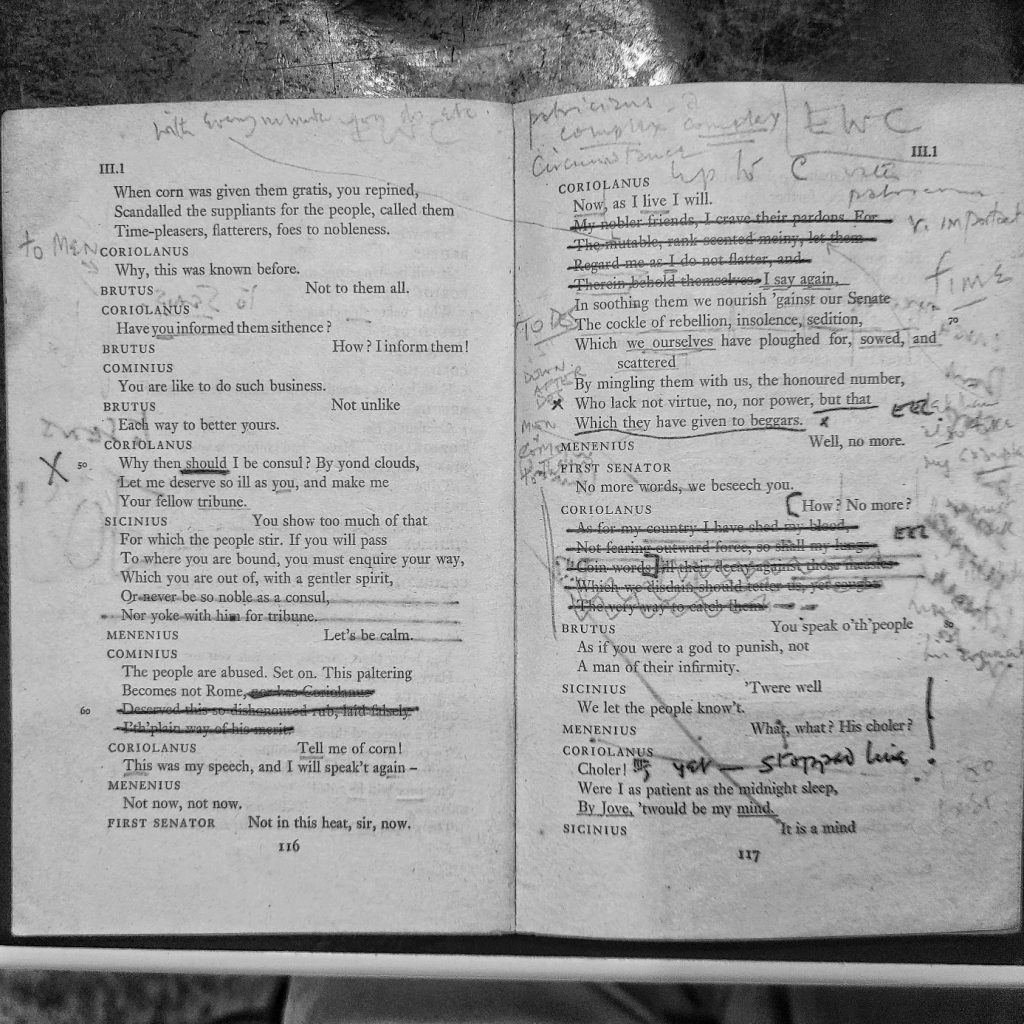 3 copies of: New Penguin Shakespeare: Coriolanus, with notes and writings by Nicol Williamson
A look at the process of the famous actor in his prime: the stage directions and directorial choises and his comments.
3 copies of: New Penguin Shakespeare – Coriolanus (1968 & 1972 & 1972) , intensively written in (I guess used/written during rehearsals). €150 each
2 copies of: The Arden Shakespeare – Macbeth (Methuen & Co, LTD, 1969 & 1973) with all kinds of written comments in it and a few notes (I guess used/written during rehearsals) €150 each
Gwenth Jones – The Mayor of Torontál, a Comedy in One Act (Samuel French Limited, 1953), on which Williamson has seemed to have practiced his signature. €150
Uncorrected Proof Copy of: Beckett at 60 (Calder and Boyars, 1967), with some 'funny' written comments on some of the photographs. €150
Penguin Classics – Marcus Aurelius Meditations (Penguin Books, 1964), with a funny drawing on the first and last page. €150
Albert Camus – Youthful writings (Vintage Books, 1977), with some written comments on first and last pages. €100
Other items
The Arden Shakespeare – Macbeth (Methuen and Co. LTD. London, 1955), with a Christmas card from: "All the boy of 58" and signed by 32 people — from by Google I found some to come from the literary world. €250 (see photo below)
Some doctors prescriptions, diet advices and an invitation found in the books. €100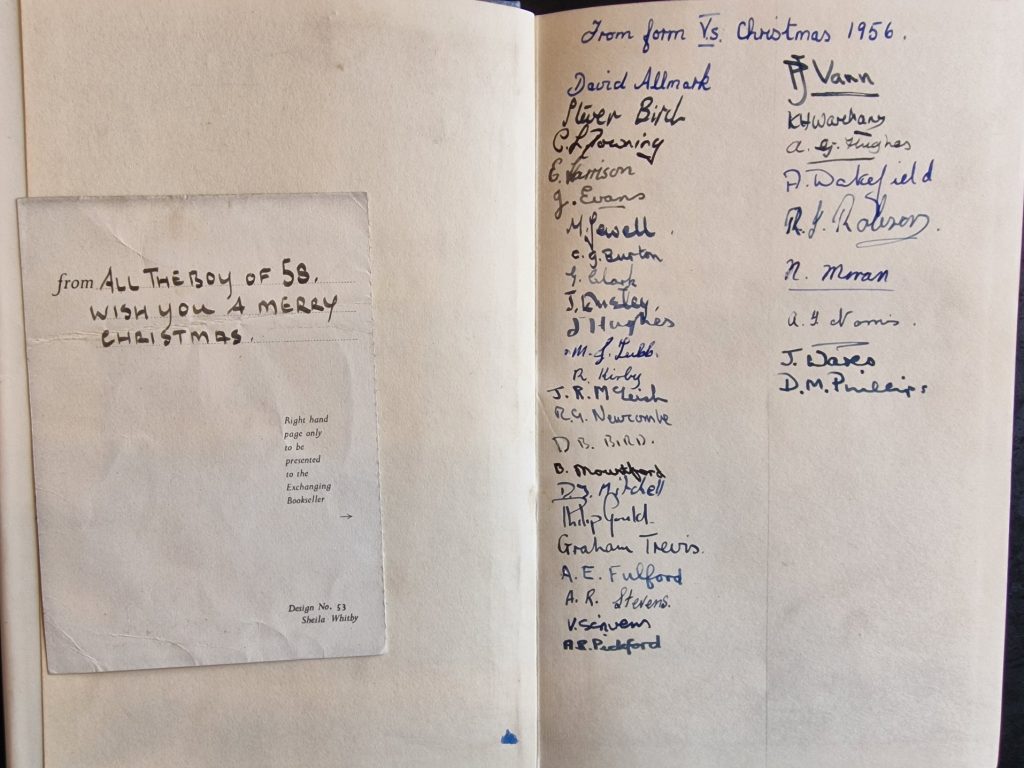 The Aeden Shakespeare – Macbeth, signed with 32 names in 1956
Interested? Questions? Please contact me.